The factory is carrying up-to-date Italian machinery which is capably handled by an experienced staff. It is operating out of Drama Industry Park, which is a privileged location as it is within the main source of white Greek marble.

Thassos stone, especially, is strictly selected from the best quarries for each selection, manufactured and finally exported by TopalidisSA in several forms according to the customer's requirements. Both you require small quantities for your restricted space application or larger quantities for your complex project, due to the

great production and stock capacity

, all your requirements regarding your supply of marble white Thassos can be fulfilled by the Industry.

Quality

is considered as most important, starting from the selection from the quarry to the finished product. All necessary procedures are followed to ensure that the stone products meet the international quality standards and stand competitive in quality, appeal and price compared to any foreign white marble.



Thassos supplies

by TopalidisSA include several forms, such as:

Blocks

(squared or rough),

Slabs / Plates

(2 - 3 cm thickness or more), Tiles of standard sizes (30 x 60 x 2 cm, 30 x 30 x 2 cm, 40 x 40 x 2 cm, 60 x 60 x 2 cm),

Tiles cut to size

(according to your specifications),

Steps, Rizers, Splashes

(according to your specifications) and

Special Works

. Also, all export products are strictly packed and are offered unpolished, polished, tumbled, sandblasted, bevelled, calibrated and in other possible finishes of the stone.



White Thassos supplies & information about marble Industry (Greece)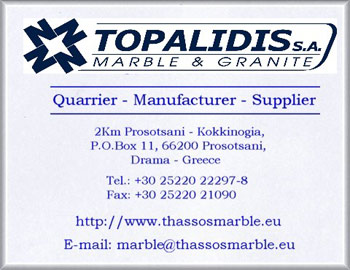 Don't hesitate to ask for more information about the White Thassos supplies from Greece or a price quotation, we will be pleased to reply you and furnish you with all related information. Sample of standard sizes or samples cut into sizes according to your requirements for mockups - showflats, upon your request, can be easily obtained by TopalidisSA Industry in Greece.